In September of 98 I found this great 1997 SVT Mustang Cobra. It was on the car lot with only 100 miles on it. I knew the owner of the dealership pretty well from the airport. Chris made me a deal I couldn't refuse and the rest is history.
This Cobra is factory stock. All I have done is tint the windows. I have been keeping the miles low and waiting for the opportunity to build this car up. Below are some more pictures of my ride.
(Click on the pictures below to enlarge)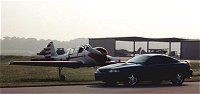 ---
My Cobra is not the first Mustang I have owned. I bought a 1972 Mustang back in 1988 and drove it for several years while I was in the Air Force. Click on the picture below to see my old Stang.